Great design for both girl and boy cats
Pets are our best friends and beloved babies. They also need to dress up. With this cute cat collar, we believe your pet will be even more lovely and attractive.
For everyone's favorite family member
Comfortable for your pet
This 3/8″ wide cat collar by Mirage Pet Products is made of high-quality durable nylon with a fabulous ribbon overlay. It is easily adjustable and fits cat neck sizes from 6" to 10".
Designed for your cat's safety
It includes a buckle specially designed to break away in the event that your cat becomes entangled while wearing it, and a steel clasp to easily attach ID tags and leashes.
For romantic kitties
Comfortable and simply bursting with meow-tastic personality, this fashionable cat collar by Mirage Pet Products is just the purrfect accessory for your cat. It's not only pretty to look at, but strong enough for your kitty's wild nature. Keep your little adventurer safe and in style all day long with a trend-setting pattern and the latest color palette to hit town.
About Mirage Pet Products
Mirage Pet Products got it's origins in El Monte, California in 1957 at a belt factory. A belt customer brought in a dog collar and requested that the belt factory add some crystals. The rest is pet industry history. Six generations of family have helped make Mirage Pet Products what it is today. Focusing on quality over quantity, we make as much as we can in our small factory in southern Missouri and we sure have a lot of fun while doing it!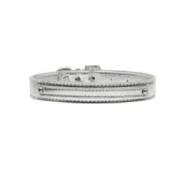 Designed In
Mount Vernon, Missouri