Travel Buddy
Dog Seat Cover
For those who want to drive with their pets in the back seat or in the trunk, this Owleys dog seat cover (
owleys travel buddy
) is the ideal accessory. The travel buddy dog seat cover is a must-have for dog owners who have cars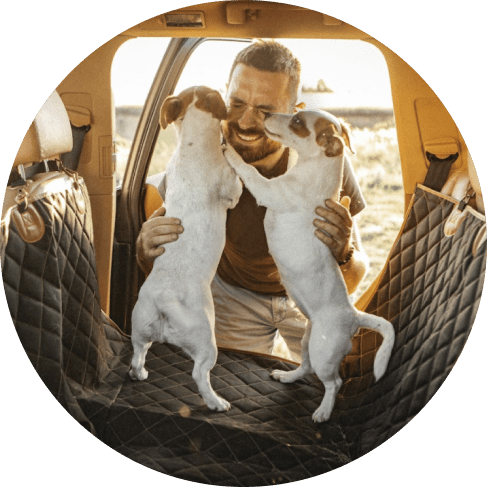 When traveling with dogs, keeping your car clean is simple
Bring your canine companion along
Enjoy a spotless back seat
After a trip with your furry friend, forget about the filth, dog hair, sand, and dust in your car.
Simple to clean
Use a moist towel to quickly wipe away spills, dust, and grime; vacuum up pet hair.
Damage–resistant materials
A six-layer build is waterproof, and the sidewalls are reinforced with plastic to resist teeth and claws.
Safeguard your pet
The seat belt secures your pet for his safety and comfort while four headrest attachments, two seat anchors, and a non-slip bottom keep the cover in place.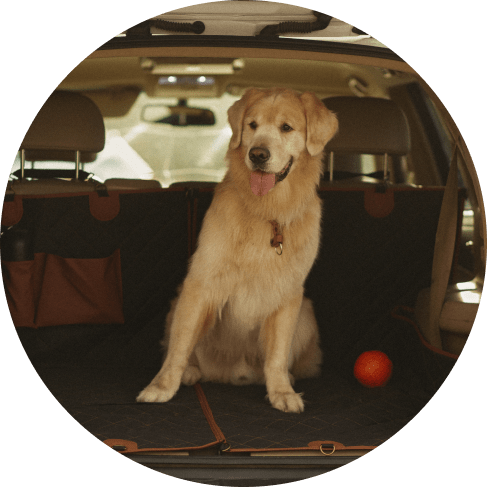 For your dog, act like a superhero
With Owleys, you can forget about the hassle of traveling with a pet and instead make it simple and pleasurable. Your Travel Buddy can even take care of the car's cleanliness.
Excellent multi-purpose fit
Any car or automobile model with seat headrests will suit the Travel Buddy. Use the cover completely to cover your back seat or luggage compartment, or unzip it halfway to use only half of it, leaving room for additional passengers or items of luggage.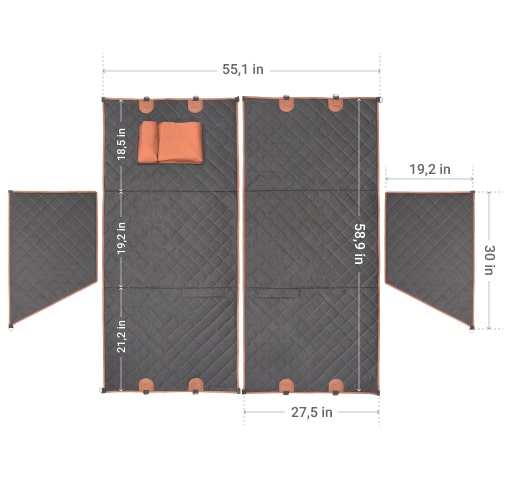 Take your dog on comfortable car vacations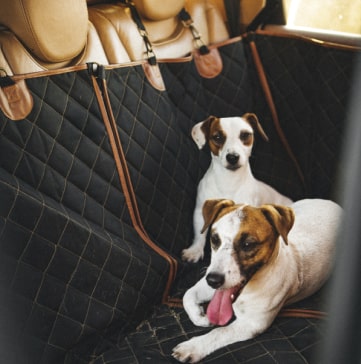 Anti-slip layer on the bottom
This seat cover is held in place and keeps from slipping, even in leather car interiors, thanks to a PVC layer on the bottom.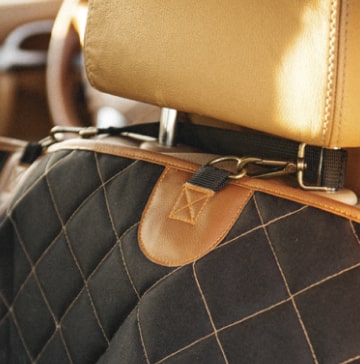 Dependable and strong fastening
Metal hooks and strong cloth straps are used to secure the cover to the car seats. The sidewall zippers are fastened with Velcro.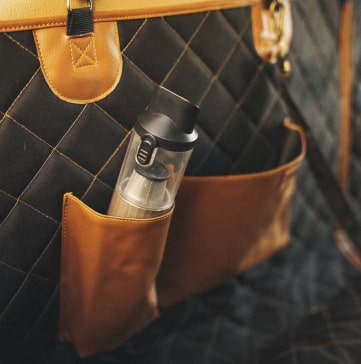 Deep pockets for storage
For your dog's ease and comfort when traveling, keep favorite toys and care items in two pockets.
With our top-notch items, you can make your road travels better

FAQs
All car types with headrests on the seats will accommodate the Travel Buddy.
No, it is not advised to use this seat cover in a washing machine. To gently hand-wash it, use a moist towel, a vacuum, or your hands.
When not in use, you may fold this cover effortlessly. Its components are all easily foldable.
It does, indeed. While you're driving, your pet won't be able to move ahead because of the high sides and strong attachments.
You don't need to purchase the dog safety belt separately because it comes with the cover.
Yes, there are specific holes in the Travel Buddy's folds where the dog safety belt can be attached.
All About Owleys – the manufacturer of
travel buddy dog seat cover
California is home to the high-end automotive accessory company Owleys. For road vacations, camping, picnics, nature outings, and daily commutes, we design accessories. Our fundamental objective is to make every moment you spend in your car comfortable, convenient, and enjoyable.
We have two primary product lines because we ourselves enjoy taking trips with our friends and family: traveling with kids and traveling with pets. With these products, we hope to help you take good care of your loved ones while driving and have fun doing it. We consider both children and adults when designing our accessories, as well as both dogs and their owners. As a result, we never utilize genuine leather and instead opt for PU leather.
We prefer to use low-maintenance, environmentally friendly, and robust materials for our goods so they can weather your journeys with even the most active children and animals.