Dog, stay. Finally.
 Well, here's one way to keep your pooch in place. With no running around the house or walking into the room of construction. Our Portable Safety Net is the easiest and most convenient way to keep your dog from freely wandering around the house. It's perfect for doorways, between walls, or even stairwells. And when it's time to let your dog run free, simply move the net.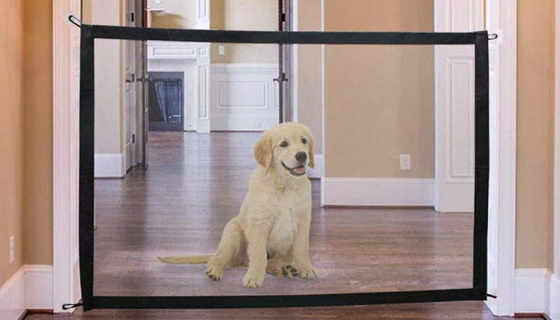 Safe spaces are easy to create
Here's how our net does it:

Works indoors and outdoors
Our net fits in doorways, between walls, or stairwells.
Constructed of partially see-through fiberglass fabric, our net is woven to withstand clawing and gnawing from dogs and cats.
Simply tape the hooks up and hook the net, and you're done.
No bulk or burden. Bring this net with you anywhere to keep your pet in place.
Open up. Hook up. Set up.
Five steps to a pet-ready space:
1. Unfold the net fabric.
2. Stretch the two metal posts to their maximum length.
3. Insert these two poles into the tunnels on both sides of the net.
4. Fix the sticky hooks to where you want to install the safety net.
5. Hang the net fabric onto the four hooks.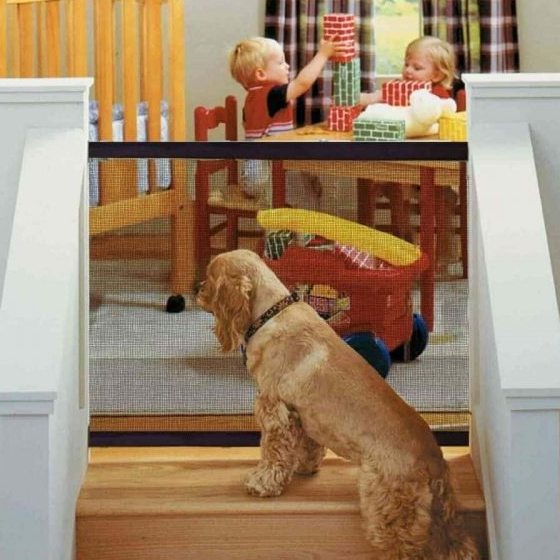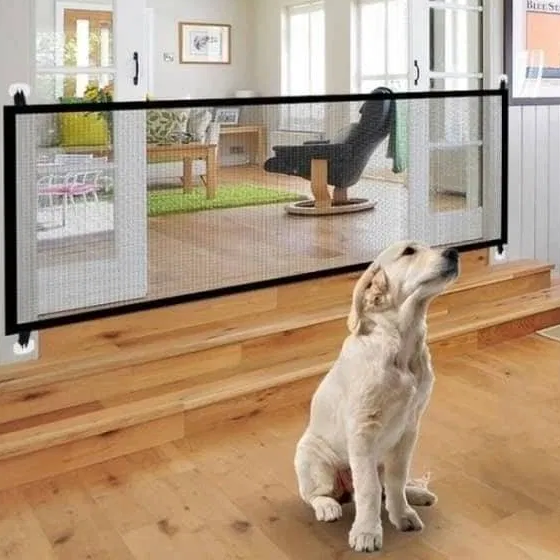 FAQs
Our gate is very sturdy and can deter most household pets. In the case your dog is able to jump over it, you may need to retain him or her to not jump.
This safety net has four hooks on one side – two at the top and two at the bottom (hooks are included). To remove the net, you just need to unhook all hook corners.
In that case, we advise you to roll one of the sides of the net inwards to make the net width shorter.