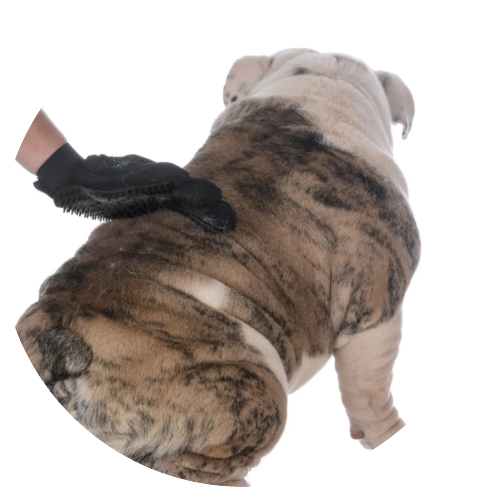 Combining a massage and a grooming treatment
Use a much gentler (and soothing) approach to reduce your dog or cat's anxiety over having their fur brushed. With no scary metal brush bristles or handles to be seen, our Pet Anti-Shedding Gloves take a friendlier approach to hair-brushing.
Just slip on
and brush away
The delicate silicone points on your palms will assist to gather and loosen all stubborn hairs with simply the gentle back-and-forth strokes of your hands while smoothing your pet's body, head, and legs for a polished look — all without the discomfort and tangles caused by a conventional brush. This is a handson all-in-one pet bathing & grooming gloves
Combining easiness of use and health
Our gloves' silicone tips also give your pet a light massage in addition to smoothing hair. Rub all over for a wonderful body massage that can increase endorphin release and blood circulation (hey, pets also enjoy massages). Less stress means fewer stray hairs in the house. Win-win situation. It is also a dog grooming glove for short hair.
Pet anti-shedding gloves that are e
asy to clean and adjustable
Each glove has a velcro wrist strap that can be adjusted to provide a secure fit for every user. Additionally, the mesh lining is washable and dryable, and breathable throughout. Don't wash the
pet anti-shedding gloves
in a machine. This grooming glove is a pet hair remover glove as seen on tv.